Nisha Mandani is a philanthropic leader who strives to serve humanity and continues to pay it forward. She holds a Master's of Science degree in Special Education and has served as an educator for a decade in New York City. Since 1987, she has also been an entrepreneur where she served as a president for multiple corporations in various industries that focused on service and retail. Her background as an entrepreneur has led her to attain honorable recognitions, such as "Businesswoman of the Year" by the Indo-US Chamber of Commerce. Her motto in life is "If you are blessed, it's your obligation to be the blessing to others." Nisha endlessly aims to help the less fortunate and continually serves others. She has served as a volunteer chair member for the intergenerational in the mayor's committee.  
Her drive and compassion have led her to conceive the "Our AIM Foundation", where she now has dedicated her efforts to for the past 11 years. As a 501(c)(3) non-profit organization, Our AIM has a platinum status on GuideStar; 100% of the funds collected go directly toward the multiple projects in 6 countries. Through the selfless efforts of volunteers along with her altruism, the foundation has been able to transform lives through hope and empowerment and has impacted over 2,000,000 lives. Her accomplishments prompted recognition, as she was invited to speak in Generations United in Washington, DC as well as Arab Children Health Congress in Dubai. She has received two Lifetime Achievement Awards from the President of the United States, the Point of Light Award from the White House, and many letters of support and recognition from numerous government officials.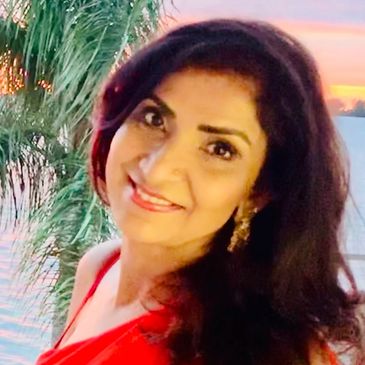 Nisha founded the International philanthropic organization Our AIM Foundation in 2008. Today, Our AIM Foundation has a Platinum Seal of Transparency on GuideStar, and over 95% of the donations the foundation receives go directly to fund charitable projects. Most recently, in response to the Covid-19 pandemic, Our AIM Foundation has delivered 25,000 reusable 100% cotton hand-made masks to medical centers around Florida, including Tampa General Hospital, the Mike Alstott Family Foundation, Tampa Fire Rescue, Moffitt Cancer Center, AdventHealth North Pinellas, St. Mark Village, BayCare, and more health clinics and hospitals around the Tampa area, in order to help protect the front line medical workers who are battling the Covid-19 Pandemic. She has been recognized by Tampa Mayor Jane Castor, Dunedin Mayor Julie Bujalski, and Tampa General Hospital, Bay Care, Tampa Rescue, the Moffit Cancer Center, Advent Health, Mease Manor Assisted Living Facility, Manor Care Florida, and the Mike Alstott Family Foundation.
She has specifically focused her efforts on empowering women to gain financial independence in the third-world countries in which Our AIM operates. In Malawi, Nisha founded a Women's Empowerment Program and trade school to help women learn new skills that can help them escape from the drudgery of a limited, oppressive life that most women are forced into by the difficult circumstances of Malawi's agrarian economy and patriarchal culture. Nisha has always believed in empowering women through vocational training and teaching job skills, so that they can achieve financial independence. She has created initiatives in all the countries that Our AIM works to distribute women's hygienic products and offer women's health services, as well as counseling programs for women who have suffered from assaults and sexual abuse, as many of the women in refugee camps have. She has also delivered speeches at the ABLE U.A.E. organization's seminar on inclusive education for special needs children, and conducted a special seminar on special needs education for girls and women.
Nisha Mandani has worked to help those in need in some of the most impoverished regions of the world for years. With her Our Aim Foundation, she has helped elevate and empower lives in Mchinji, Malawi, where villagers lack in basic necessities such as water and hygienic products, as well as in Bangladesh, where the forgotten Rohingya people live in refugee camps. Our AIM also works to alleviate poverty and give hope to people in Pakistan, Lebanon, India and more. She has helped fund the creation of medical facilities, sanitary facilities, hundreds of bore wells and educational centers, and the distribution of thousands of meals for those living in abject poverty across the world.
She has also served as the Intergenerational Chairperson for the Dunedin Committee on Aging for nine years, a committee which is dedicated to honoring and helping the elderly residents of Dunedin, Florida. In 2012, the Florida State Department of Elder Affairs honored Nisha Mandani and her family with the 2011 Intergenerational Volunteer Award for their GrandKids and Close2Heart programs. The award is given to only one recipient in Florida each year. She was also recognized for her efforts in Elderly Affairs by Senator Bill Nelson, the City of Tampa City Council, Congressman Gus M. Bilirakis, Florida Governor Rick Scott, and was honored by the Points of Light organization, which was founded by President George H.W. Bush. In 2011, she was awarded the Intergenerational Volunteer Award from the Florida Department of Elderly Affairs. Nisha was also awarded the Business Woman of the Year award in 2010 by the Indo-US Chamber of Commerce.
Most recently, Nisha has received a lifetime achievement award office of the President of United States in 2018, and a Gold medal from Presidential voluntary Service Awards in both 2019 and 2020. Our AIM Foundation was also honored with a $50,000 donation from the NHL's Tampa Bay Lightning, and Nisha's son Ishan was awarded as a Tampa Bay Lightning Foundation Community Hero for his involvement with Our AIM Foundation. Today, Nisha's efforts to distribute medical supplies and PPE including masks, gloves and gowns to the Malawi healthcare system have been covered extensively in Malawi news sources. All told, her foundation has impacted over 2 million lives in seven different countries, and continues to expand and help more and more people all over the globe.
Nisha never stops working to help others, and she never asks others to do things that she wouldn't do herself. She continues to demonstrate her commitment with frequent visits to her sites, and constantly seeks to innovate and think of new ways to positively impact the lives of those that she can help. She inspires everyone around her to go the extra mile to make a difference in others' lives, and never stops doing so herself.